As the National Coordinator for Health Information Technology (ONC) keeps pushing forward interoperability regulations to unblock patient data, healthcare providers get more opportunities to innovate the industry with patient-centered apps. One way to do that is to use the Epic EHR/EMR API.

Let's say you're a provider working at a hospital or an outpatient clinic that relies on Epic for electronic health record (EHR) management. And you need to develop a healthcare app to work with patient data. The great news is you can get this data into your app by using their USCDI API. Let's briefly recap what USCDI means before moving forward.
What is Epic USCDI API?
USCDI stands for the United States Core Data for Interoperability. It's a standard that dictates what health data classes and its constituents EHR software vendors have to make available via APIs for exchange between health applications.
The USCDI standard is part of the Affordable Care Act, and, therefore, provides the legal basis for the minimum information that EHRs and EMRs have to make available for exchange.
And API, in layman terms, is a set of rules for working with data. Developers refer to APIs to learn how they can extract data and send it back to a server, what other operations are available, etc. So Epic USCDI API is a set of rules for getting health record data in the USCDI format from EPIC.
FHIR is another abbreviation that often appears when discussing how to integrate with Epic EMR. As a health care practitioner, I'm sure you've probably already heard a little about FHIR, but here's a brief explanation to refresh your memory.
Simply speaking, FHIR is a special API for exchanging health records and a method to describe how health data should be formatted when traveling between authorized applications. The FHIR data format ensures that patient data traveling between healthcare apps remains consistent and digestible by all apps.

Finally, Epic, as you're well aware, is the leading EHR software in the U.S. with around 34% market share.
Why Do I Need It, Again?
This EPIC EMR API (aka Epic USCDI on FHIR) allows individuals to access data from a provider-facing app without any charges being assessed to customers. You also get free access to the specifications. So, as a healthcare provider, with the USCDI API, you ultimately get free one-way patient data sync from Epic EMR to your app. You can then visualize, analyze, run AI algorithms — do anything you need with this patient data to foster value-based care.
In some cases, using API EPIC EMR helps to either move away from having to manually access Epic or to avoid using more expensive and less scalable data integration options, such as HL7 2.X and CCDs (continuity of care documents). When it is a feasible solution, it is extremely attractive because of its scalability and the cost-effectiveness of the implementation.
Use Cases for Integrating Epic USCDI on FHIR
Let's list some of the use cases when you may benefit from integrating with the Epic USCDI API.
Any provider-facing application that wants to be able to pull relatively standard data on a patient (e.g.,

medications

, allergies, conditions/problem list, demographics, test results, epic electronic medical records)

If one is looking for an integration to pull data that can scale easily and cost-effectively

If one does not need to launch the application from Epic

If one does not need to push data to Epic
A good example would be a telehealth app that pulls data in for a remote provider for reviewing while treating a patient. Another example is a patient management app that tracks and monitors treatment plans. The app pulls initial and ongoing clinical data (such as medication status and test results) when a patient's record is being reviewed and keeps track of changes.
Here's a screenshot from an MVP app we built to demonstrate how one can develop a simple health app using the Epic USCDI API.
As you can see in the screenshot, the app allows you to find a patient and view her electronic health record with previous diagnoses, prescribed medications, care plans, etc. The app also pulls the patient's demographic data with the integration. You can use this data when seeing a patient remotely or for any other processing purposes.
When Epic API Is Not a Good Fit
Let's also go through a few cases where you might need other APIs because, in those scenarios, you'd want to do more than merely viewing patient data:
It should be avoided when one wants to sync data back to Epic.

The EPIC EMR integration API is not designed for patient-facing applications.

It should be avoided for integrations when you want to extract vast quantities of data for analytics.

When the receiving health system depends on Epic to create patients. An example of a pre-existing system where this would occur would be one that involves using ADT messages to create new patient records.

USCDI

requires some patient demographics to perform a patient search.

When an app's workflow depends on Epic pushing data.

Patient-facing app dillema
Even though we said that Epic USCDI on FHIR is not designed for patient-facing apps, there's nothing stopping you from building such an application.
However, you need to keep in mind the following disadvantages:
Patients will need to use their credentials from a patient portal hooked with an Epic EHR.
I know that not all healthcare facilities provide such web applications for patients to access their data. And even if you do, you will need to educate your patients to use the same credentials.
Only some data is available via Epic EHR API on FHIR on a free-tier basis to your customers.
Despite these caveats, you can still build and approve with Epic (usually take a day or two) a patient-facing application using their FHIR API.
Related: Building a doctor on demand application
How Do You Start Epic EHR Implementation?
When it comes to figuring out how to integrate with Epic EMR/EHR, you need to make sure that the sites you want to pull data from are on a supported version of Epic (most of them should be). You can confirm this by having the site check with your account/ integration manager.
The next step is to go to uscdi.epic.com, register for a free account, and review the endpoints/data that is available. That's a crucial step as you want to ensure that all the data needed is available. The account that you created at uscdi.epic.com can be used to register the EPIC EHR API as well.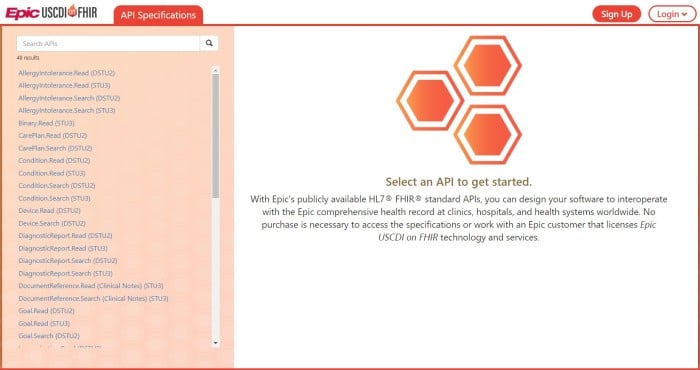 What data can you pull from Epic free of charge?
Let's discuss what type of data you can pull from Epic using FHIR. As we've mentioned, USCDI defines only the minimum health data sets that have to be freely available to all players in the market. And even though they broaden the requirements each year, you shouldn't expect to be able to pull absolutely any data from Epic.
Related: EHR/EMR Software Development: The Ultimate Guide
So what is available under a free tier?
Observation (Vitals) — all the vital signs

Observation (Labs) — lab test results

DiagnosticReport — for example, results of MRI scans in the form of radiologist reports (images per se are not included)

DocumentReference (Clinical Notes) — notes by nurses, physicians, or other healthcare professionals

Binary (Clinical Notes) — part of DocumentReference

MedicationRequest — lists prescribed medications

Device — describes information about implantable medical devices

AllergyIntolerance — info about the patient's allergy or intolerance to a specific substance

Condition – patient data from problem list records

Procedure – surgeries, endoscopies, biopsies, counseling, physiotherapy, etc.

Patient — demographics, care providers, and other administrative information about a patient

Immunization — info about vaccine and vaccine administration details
Note that you can only Read, i.e. download data from Epic, free of charge. The Search and Create options are both paid options.
One thing to keep in mind while working on Epic EHR integration is there are different versions of FHIR, namely DSTU2, STU3, and R4. When working with legacy healthcare systems, you will need to support all of them for backward compatibility, however, R4 is becoming the golden standard for FHIR data exchange.
Also Read: E-Prescription App Development Guide
What you need to build a health app integrated with Epic
In order to create a health app working with Epic EMR, you need to set up a few things.
A server with your health app running on it. Here you're only limited with your imagination. It can be an AI app that analyses the patient's health data and outputs a preliminary diagnosis and recommendations. Or it can be a simple informative app that just shows some health readings and links to educational resources.

Integration with Epic via the FHIR API. Again, FHIR is just a REST-formatted API bundled with an OAuth 2 authentication mechanism. What that does is it connects with Epic, securely authenticates a user, and then pulls data from the Epic EHR to display/process in your health app.

Register your app with Epic.
If you want to fully leverage Epic EMR resources, you will need a developer account in their App Orchard, which is sort of Epic's app store for health apps. The nice thing about it is you can set up your health app to run on its own integrating with Epic EMR via API, but it can also function right within Hyperspace (Epic's software for healthcare providers).
Also Read: Developing a Senior Care Application
Let's Build a Health App Integrated with Epic EHR
Even though it does not provide official support outside of posted documentation, there's a clear advantage to using the platform for building innovative lightweight apps. Besides, we can help you navigate around any potential roadblocks or questions around data and device integration, and there's also a Google Group that sheds some light on the EHR integration using the Epic USCDI API.
Other blogs about healthcare app development:
How to build a healthcare chatbot 
Guide to creating a Hospital Management Software
Blockchain in Healthcare: The Good, Better, Best 
We'll also educate you on other nuances of implementing such EPIC EMR integration (or EPIC EHR integration) projects, e.g., on the patient search feature, or any questions around existing API documentation you're referring to. It is essential to test the parameters used in the patient search API calls to ensure that we are maximizing positive data returns.
Related Articles:
[This blog was originally published in May 2020, but has been updated for more relevant content]
Frequently Asked Questions
What is the Epic USCDI API?
It's a set of commands that healthcare software may exchange with other systems complying with the United States Core Data for Interoperability — a standard defining health data classes and its constituents for EHR software vendors to support.
What is FHIR?
A special API for interchanging health records data between healthcare applications and a method describing required health data format for exchanging this data between authorized software platforms.
How can I benefit from using Epic USCDI on FHIR?
Build medical software that syncs patient data from Epic EMR, commission-free.
Can I sync any patient-generated data (say, from a medical sensor) back to Epic.
Unfortunately, not with the EPIC USCDI API. You can only load data from Epic to your healthcare provider-facing medical software