As the National Coordinator for Health Information Technology (ONC) keeps pushing forward interoperability regulations to unblock patient data, healthcare providers get more opportunities to innovate the industry with patient-centered apps. One way to do that is to use the Epic EHR/EMR API.

Let's say you're a provider working at a hospital or an outpatient clinic that relies on Epic for electronic health record (EHR) management. And you need to develop a healthcare app to work with patient data. The great news is you can get this data into your app from using their USCDI API. Let's briefly recap what USCDI means before moving forward.
What is Epic USCDI API?
USCDI stands for the United States Core Data for Interoperability. It's a standard that dictates the format of healthcare data to simplify its exchange between applications. The USCDI data format ensures that patient data traveling between healthcare applications remains consistent and digestible by all apps.
And API, in layman terms, is a set of rules for working with data. Developers refer to APIs to learn how they can extract data and send it back to a server, what other operations are available, etc. So Epic USCDI API is a set of rules for getting health record data in the USCDI format from EPIC.
Why Do I Need It, Again?
This EPIC EMR API (aka Epic USCDI on FHIR) allows individuals to access data from a provider-facing app without any charges being assessed to customers. You also get free access to the specifications. So, as a healthcare provider, with the USCDI API, you ultimately get free one-way patient data sync from to your app. You can then visualize, analyze, run AI algorithms — do anything you need with this patient data to foster value-based care.
In some cases, using API EPIC EMR helps to either move away from having to manually access Epic or to avoid using more expensive and less scalable data integration options, such as HL7 2.X and CCDs (continuity of care documents). When it is a feasible solution, it is extremely attractive because of its scalability and the cost-effectiveness of the implementation.
Use Cases for Integrating Epic USCDI on FHIR
Let's list some of the use cases when you may benefit from integrating with the Epic USCDI API.
Any provider-facing application that wants to be able to pull relatively standard data on a patient (e.g., medications, allergies, conditions/problem list, demographics, test results, epic electronic medical records)
If one is looking for an integration to pull data that can scale easily and cost-effectively
If one does not need to launch the application from Epic
If one does not need to push data to Epic
A good example would be a telehealth app that pulls data in for a remote provider to review it while treating a patient. Another example is a patient management app that tracks and monitors treatment plans. The app pulls initial and ongoing clinical data (such as medication status and test results) when a patient's record is being reviewed and keeps track of changes.
We'll provide insight into what tech stack and APIs work best for your app idea.
Tell me more
Here's a screenshot from an MVP app we built to demonstrate how one can develop a simple health app using the Epic USCDI API.
As you can see in the screenshot, the app allows you to find a patient and view her electronic health record with previous diagnoses, prescribed medications, care plans, etc. The app also pulls the patient's demographic data with the integration. You can use this data when seeing a patient remotely or for any other processing purposes.
When Epic API Is Not a Good Fit
Let's also go through a few cases where you might need other APIs because, in those scenarios, you'd want to do more than merely viewing patient data:
It should be avoided when one wants to sync data back to Epic.
The EPIC EMR integration API is not designed for patient-facing applications.
It should be avoided for integrations when you want to extract vast quantities of data for analytics.
When the receiving health system depends on Epic to create patients. An example of a pre-existing system where this would occur would be one that involves using ADT messages to create new patient records. USCDI requires some patient demographics to perform a patient search.
When an app's workflow depends on Epic pushing data.
How Do You Start Epic EHR Implementation?
When it comes to figuring out how to integrate with Epic EMR/EHR, you need to make sure that the sites you want to pull data from are on a supported version of Epic (most of them should be). You can confirm this by having the site check with your account/ integration manager.
The next step is to go to uscdi.epic.com, register for a free account, and review the endpoints/data that is available. That's a crucial step as you want to ensure that all the data needed is available. The account that you created at uscdi.epic.com can be used to register the EPIC EHR API as well.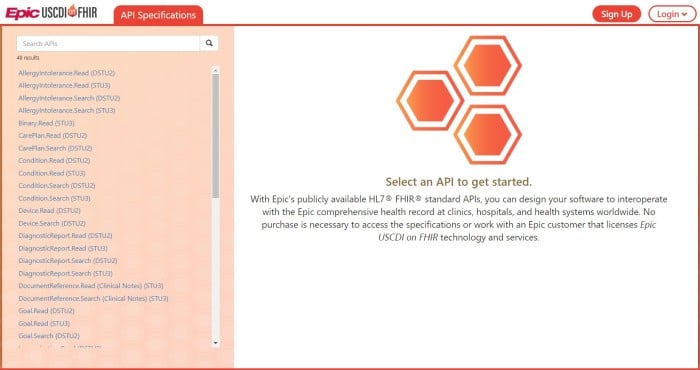 Let's Build a Health App Integrated with Epic EHR
Even though it does not provide official support outside of posted documentation, there's a clear advantage to using the platform for building innovative light-weight apps. Besides, we can help you navigate around any potential roadblocks or questions around data and device integration, and there's also a Google Group that sheds some light on the EHR integration using the Epic USCDI API.
We'll also educate you on other nuances of implementing such EPIC EMR integration (or EPIC EHR integration) projects, e.g., on the patient search feature, or any questions around existing API documentation you're referring to. It is essential to test the parameters used in the patient search API calls to ensure that we are maximizing positive data returns.
Do you have a health app in mind that could benefit from the Epic USCDI on FHIR? Get in touch to get a closer look at our MVP app and for a free consultation.
Looking for help with your app?
From a prototype to a full-blown app, we'll help you hit the market
in record time with a product that's set to win.
We can help with:
Schedule a Consultation
Strategy
From a prototype to a full-blown app, we'll help you hit the market in record time with a product that's set to win.
Design
Your app will have a unique visual appeal engaging your customers way beyond average digital experiences.
Development
We'll pick relevant technology pieces for your app to make it secure and easy to scale up and maintain.
Schedule a Consultation
X
Speak with a healthcare app specialist to answer all your questions around EHR app development